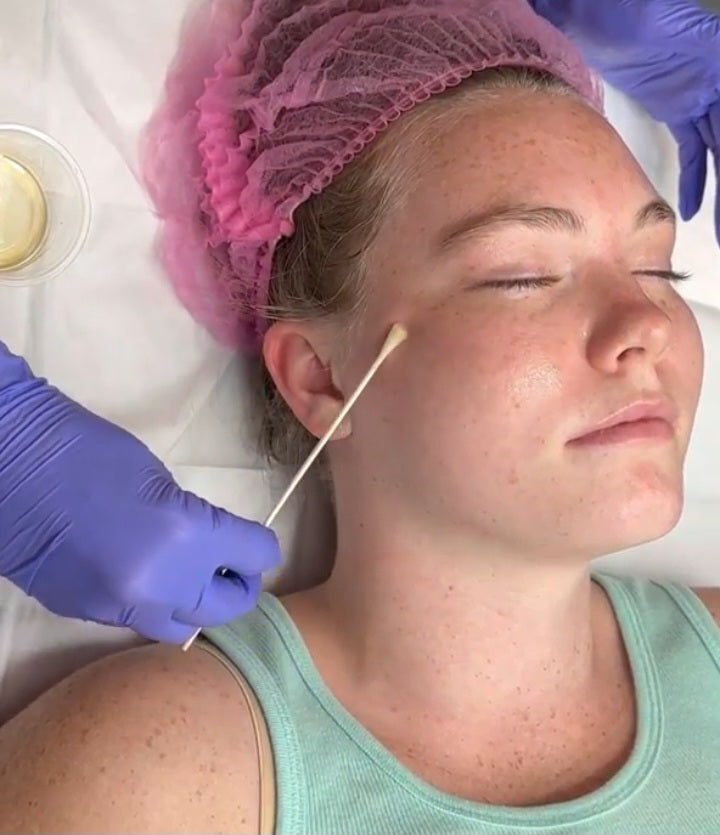 Dermaplane + Nano-Peel Hands-On Training
The Esthetics Academy caters to the true professional who is ready to uplevel their skill by investing in themselves for their future and their clients' results. This is an involved training from the consultation to hands-on techniques. To become a true expert in this craft, it takes putting in the time studying at home and during class. If you're looking for a quick in & out class or if you're not at a place where you can dedicate focused energy, we suggest our virtual, self-paced option instead. We want everyone in our training to be successful and just as important as patient selection is to this treatment, so is only selecting professionals who are ready to focus their energy on learning. 
This innovative hands-on course combines our advanced treatment protocol of Dermaplaning, also known as epi-leveling, and Nano-Infusion using Herbal Skin Solutions CIT Pen and our professional grade Mandelic Acid 25% and Pro-Glow 55% superficial chemical peels, to confidently offer your clients a deeper exfoliation, epidermal infusion of brightening, antibacterial and anti-inflammatory properties, with little risk and no downtime.   
In our opinion, nothing compares to feeling the proper amount of pressure in hands-on training and receiving the treatment for yourself so you can experience the amazing benefits first hand! As long as you have no absolute contraindications, you will be receiving this treatment for yourself by a fellow licensed professional with the guidance of your instructor. 
In our advanced course, we will be learning all about Dermaplaning, oil-planing, Nano-Infusion technology, gentle chemical peel enhancements, LED Light Therapy and other unique tools you can incorporate into your treatments such as MySkinBuddy and Ultrasonic Skin Scrubber devices to create beautiful, long lasting results and enhance product & retail sales.
We expect all students to come to class prepared and with any questions they may have from their pre-study materials provided upon purchase. This will allow more time to work hands-on with your instructor the day of class. We have curated an online Dermaplane + Nano-Infusion Peel Certification platform which you will have lifetime access to as The Esthetics Academy student. We do require all participants to review and study this platform as well as take our online Course Exam prior to attending their hands-on course to receive their official Certificate of Completion. 
Our Dermaplane + Nano-Infusion Peel course includes full-size, pre and post-care products, and consumables for ongoing treatments allowing you to see a successful return on your investment. Below you will find all items included in your hands-on course purchase. 
Here is what you can expect from your time spent in class:
 Course Structure
Proper Client Selection & Contraindications: The beginning of class will be spent reviewing students' Client Health History forms & possible Contraindications to be conscious of. You will practice reviewing real health history forms to practice finding possible contraindications and examine the variety of nuances and exceptions that exist within the practice parameters. Your instructor will review any missed questions from the Course Exam for clarification and dive deeper into explanation on those topics if needed. We encourage students to come to class prepared with specific questions from their time pre-studying the provided materials so we can review them during the lecture portion of class.

Social Media Marketing & Service Promotions: We will share marketing strategies and techniques that have proven to be successful in advertising the service offerings and all of the many concerns the treatments address. Photos and videos will be taken throughout class for students to access, download and use for future marketing on all social media platforms.

Unique Treatment Additions & Enhancements: Following the lecture, students will start prepping their skin for treatment. During this time, your instructor will introduce the synergistic products and modalities you will be working with in class, most of which are also included in your take-home kits. We'll discuss the benefits of incorporating oil-planing, enzymes and gentle peels post Dermaplane and choose the peel/product(s) best suited towards the students' skin concerns with Nano-Infusion before embarking on our hands-on treatment experience!

Hands-on Practice: We will be working hands-on for up to 6 hours, offering students a full treatment experience with Herbal Skin Solutions products and various modalities. Students will be practicing on their partner's arm before working on the face. Once students are comfortable with their Dermaplane blade pressure and angles and Nano-Infusion techniques, they'll have the opportunity to both give AND receive a full face treatment (as long as you're willing and no Contraindications are present) under direct supervision of the instructor. All treatments offer the option of incorporating gentle enzymes, Celluma Pro LED light therapy, Gua Sha, MySkinBuddy cleansing tool and Saian Ultrasonic Skin Scrubber for added benefits! 

Q&A: Once all treatments have been completed, instructors will take any final questions from participants and pass out their Certificate of Completion. 
We take pride in our continued, on-going support offerings to all The Esthetics Academy students. Here is what you can expect from us beyond your hands-on experience:
Continued support from our team with quarterly check-ins 

Done-for-you marketing templates to help you share your new services

Access to business resources and guidance

Up to date protocols, demo videos and product knowledge information
What you can expect after purchasing your course:
Within 48 business hours of your purchase, a welcome email will be sent with more information on the course location and start time. Within this email, you will also find links to access your online pre-study resources for you to review before coming to class and links to fill out your Client Health History Forms. This ensures we will have ample time to work hands-on together the day of class.

Once you have studied and reviewed our virtual pre-study guide, we do require students to complete our online Course Exam. This ensures all students come to class well prepared with the basic understanding of the treatment. Students must pass their exam with an 80% or higher to receive their printed Certificate of Completion after class. Any missed questions from your Exam will be reviewed with your instructor for clarification.
Have questions or prefer to talk over the phone? Our team is available Monday-Friday from 9AM-6PM via email at info@herbalskinsolutins.com or telephone 844-477-7546.
We are honored to be considered to work alongside you and your business and support your new journey with these advanced treatment offerings!
Registration closes once seats are filled or two* weeks prior to the course date (whichever occurs first) to ensure our strong educator to student ratio and to give students ample time to fulfill their requirements of studying and reviewing materials beforehand.
---
Share this Product
---
More from this collection